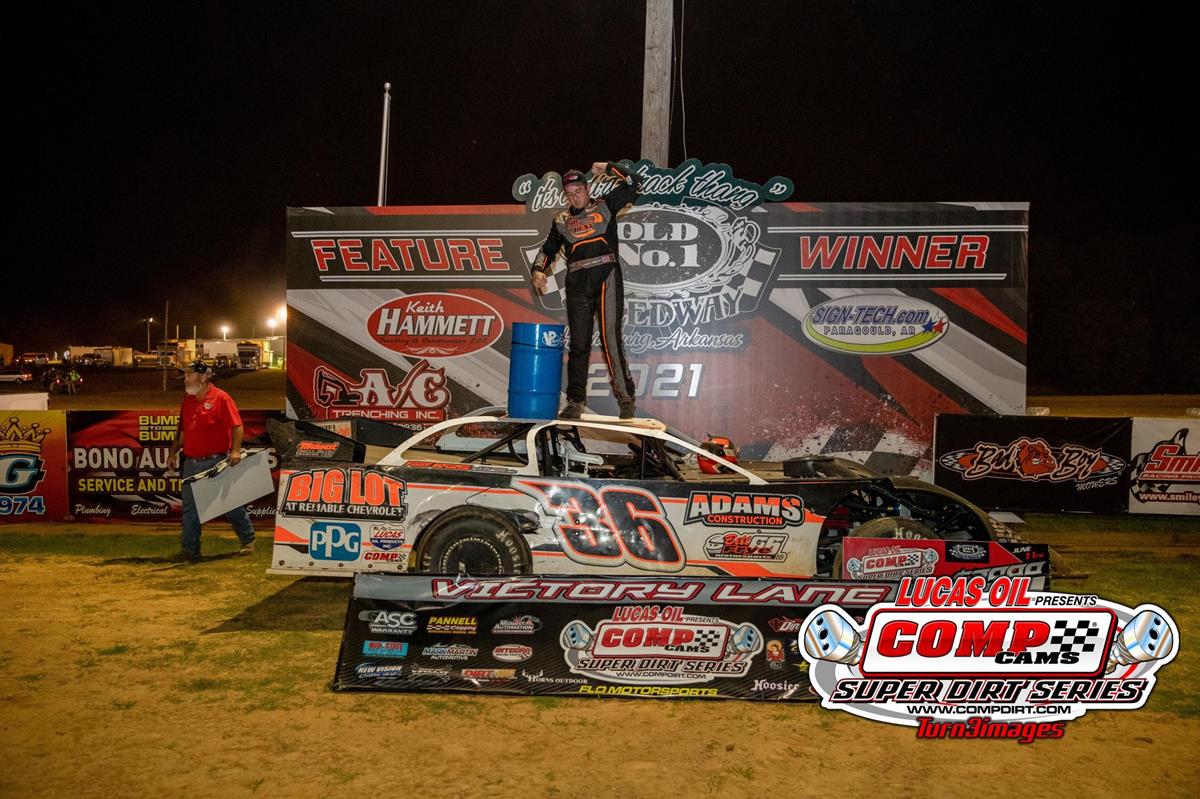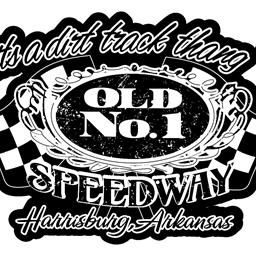 6/5/2021
Old No 1 Speedway
---
Logan Martin Returns to CCSDS Winning Ways at Old No. 1 Speedway
Harrisburg, Arkansas (06/04/21) – Inheriting the lead, when race-long leader, Kyle Beard slowed with mechanical issues on lap 28, defending COMP Cams Super Dirt Series presented by Lucas Oil champion Logan Martin paced the final seven laps to claim the victory.

Martin's third CCSDS triumph of 2021 was worth $3,000. The Missouri driver's win, paired with struggles by Midwest Sheet Metal Marked Man Brian Rickman, catapulted Martin back to the top of the series standings by 10 markers.

NewVisionCustomShirts.com pole sitter Josh Putnam and Kyle Beard brought the field to the green flag for the 35-lap affair

Beard jumped to the lead as the race went green. Putnam's debut at the ¼-mile oval ended early due to a broken driveshaft.
Meanwhile, the Trumann, Arkansas' native, Kyle Beard looked to be on his way to his second CCSDS victory of the year at Old No. 1 Speedway before mechanical issues caused him to slow with just seven circuits remaining.

With Beard pitside, the sixth-starting Logan Martin inherited the lead and paced the final laps for his seventh-career CCSDS victory.

Eighth-starting Morgan Bagley, Scott Crigler, Hunter Rasdon, and Jon Mitchell (started 10th) rounded out the Top-5 finishers.

For the latest information on the COMP Cams Super Dirt Series presented by Lucas Oil, please visit www.COMPDirt.com .
COMP Cams Super Dirt Series – June 4, 2021
Old No. 1 Speedway (Harrisburg, Arkansas)

Feature Results (35 Laps)
1)Logan Martin 2)Morgan Bagley 3)Scott Crigler 4)Hunter Rasdon 5)Jon Mitchell 6)Dane Dacus 7)Kyle Beard 8)B.J. Robinson 9)Brandon Carpenter 10)Jon Kirby 11)Brayden Proctor 12)Chad Mallett 13)Shane Stephens 14)Jason Milam 15)Chris Jones 16)Austin Rettig 17)Josh Putnam 18)J.C. Waller 19)David Payne 20)Brian Rickman 21)Blake McClain 22)Dean Carpenter

DNS: Robby Moore, Matt Cooper, Johnny Waters, Matthew Tribble, Lynn Irwin, Tim Baker, Travis Ashley

Entries: 29
Mark Martin Automotive Fast Qualifier: Kyle Beard (13.710 seconds)
Integra Shocks & Springs Heat Race #1: Josh Putnam P&W Sales Heat Race #2 Winner: B.J. Robinson
VP Racing Fuels Heat Race #3 Winner: Kyle Beard
Hoosier Tires Heat Race #4 Winner: Brian Rickman
NewVisionCustomShirts.com Pole Sitter: Josh Putnam
COMP Cams Top Performer: Logan Martin
Lap Leaders: Kyle Beard (1-28); Logan Martin (29-35)

Contingency Awards
Mark Martin Fast Qualifier Award ($100): Kyle Beard
Midwest Sheet Metal Marked Man Award ($50): Brian Rickman
Midwest Sheet Metal Rookie of the Race Award ($50): Brayden Proctor
Cruisers
A Feature 1 (20 Laps):
Heat 1 (10 Laps): 1. 22B-Bubba Greer[4]; 2. C15-Daniel Roe[2]; 3. 10-Eli Myatt[6]; 4. 555-Frankie Bolton[5]; 5. 38-Travis Standley[1]; 6. 21G-Shannon Greer[7]; 7. 61S-Stephanie Warren[8]; 8. (DNS) 2T-Tyler Carmichael
Heat 2 (10 Laps): 1. 22-Greg Greer[3]; 2. 10H-Tyson Holt[2]; 3. 3-Gary Peel[4]; 4. 45-Amanda Melder[1]; 5. 23W-Chris Warren[7]; 6. (DNS) K14-Wayne Clayton
Factory Stock
A Feature 1 (20 Laps): 1. 03T-Taylor Huffman[3]; 2. 29-Colby Richardson[1]; 3. 27T-Tanner Wood[8]; 4. 20J-Tim Est[6]; 5. (DNF) 117-Devon Andrews[2]; 6. (DNF) 19H-Bryan Holt[4]; 7. (DNF) 17TV-Trevor Victory[5]; 8. (DNF) 41-Steve Forsythe[7]
Heat 1 (10 Laps): 1. 29-Colby Richardson[2]; 2. 03T-Taylor Huffman[3]; 3. (DNF) 17TV-Trevor Victory[1]; 4. (DNF) 41-Steve Forsythe[4]; 5. (DNF) 27T-Tanner Wood[5]
Heat 2 (10 Laps): 1. 117-Devon Andrews[2]; 2. 19H-Bryan Holt[1]; 3. (DNF) 20J-Tim Est[3]
Back to News